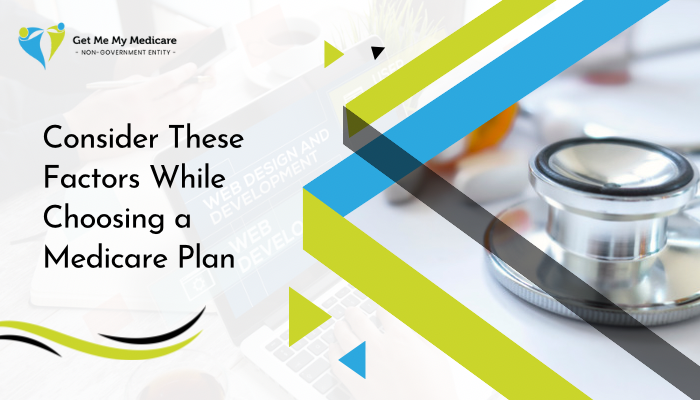 How Do I Choose the Right Medicare Plan for Me?
As you near retirement, you'll have to make some important decisions concerning your health care. Choosing the best Medicare plan for your requirements is one of the most critical decisions you'll make. It might be difficult to know where to begin with so many alternatives available. Here are a few things to consider while you look for Medicare coverage:
Determine your health insurance coverage
First, consider the sort of coverage you require. If you have a chronic ailment or need prescription medications on a regular basis, check to make sure your health care plan covers such expenses. You should also think about whether you want additional coverage for things like vision or dental care.
Compare Costs
Next, compare prices. The monthly premiums and expenditures for Medicare plans vary greatly. Before making a selection, carefully consider all of the expenses connected with each strategy.
HMO or PPO
Finally, think about convenience. Medicare plans are provided by private organisations, so it is critical to select one that has a network of physicians and hospitals that meets your requirements. You should also consider if you want an HMO or a PPO plan. Although HMOs often provide lower rates, you may be required to see doctors inside their network.
Who Can Assist Me in Choosing a Medicare Plan?
There are several options for getting assistance while selecting a Medicare plan. Contacting your local State Health Insurance Assistance Program is one possibility (SHIP). SHIP offers free, unbiased advice to Medicare beneficiaries and may assist you in comparing and selecting the best plan for your circumstances. Another alternative is to speak directly with a Medicare agent. These experts can inform you about various projects and help you enrol in the one of your choices.
Finally, you can seek the advice of a professional insurance agent or broker, such as Get Me My Medicare. We can assist you in comparing plans and determining which one best matches your requirements. With so many possibilities, there's no reason to go it alone when selecting a Medicare plan. There is a lot of assistance available to ensure that you have the coverage you want.
What Are the Benefits and Drawbacks of Medicare Advantage Plans?
Enrolling in these programmes has a variety of benefits and drawbacks. On the one hand, these plans frequently provide more extensive coverage than Medicare, including benefits like prescription medication coverage. Furthermore, many plans have lower out-of-pocket payments than regular Medicare, making it easier for seniors to afford the treatment they require.
However, there are several drawbacks to these schemes. For example, while participating in an Advantage plan, you may be restricted from seeing certain physicians or visiting certain hospitals. Furthermore, these plans may have higher monthly premiums and may limit the length of time a person can stay in a hospital or nursing facility.
Overall, the decision to enrol in an Advantage plan is influenced by your personal requirements and preferences, as well as your present health status. Finally, before making any final judgements regarding your healthcare coverage alternatives, it is critical to thoroughly examine the advantages and downsides.
How Can I Save Money on My Medicare Plan?
There are several methods for saving money on your Medicare coverage. One of the most effective strategies is to shop around and compare different plan options.This might include researching different insurance companies and evaluating different types of plans, such as HMOs vs. fee-for-service coverage. You should also be aware that charges might vary greatly based on your location and health status.
Why Are Some Medicare Advantage Plans Free?
Some Medicare Advantage coverage is free for a variety of reasons. One explanation for this is that the federal government financially supports private insurers who provide these policies. This subsidy helps insurers offer free or low-priced policies by offsetting the expense of providing coverage.
Another reason is that some insurance companies provide free policies to entice new consumers. Although some insurers hope that clients will eventually switch to a premium plan, they also provide a useful service to individuals on a restricted budget.
Finally, some Advantage plans just cost less than others. This might be attributed to the insurer's business strategy, benefits provided, or provider network. For whatever reason, free Medicare Advantage plans are accessible to people who choose or require them.
Medicare vs. Medicaid Services
Medicare and Medicaid are two government programmes that supply millions of Americans with important health care services. While both programmes are meant to assist individuals who cannot afford to pay for medical treatment, there are some significant variations between them.
For starters, Medicare is basically a programme of coverage and benefits. It is intended to assist qualified people and families in paying for medical expenditures such as doctor visits, durable medical equipment, prescription medications, hospitalisation bills, and so on.
Medicaid coverage, on the other hand, focuses on giving financial assistance with healthcare expenditures rather than covering specific treatments. This implies that Medicaid beneficiaries must typically locate their own providers or have fewer options for providers.
Another distinction between the two programmes is the eligibility conditions. Medicare has highly rigorous eligibility standards for coverage and benefit assistance, frequently targeting specific groups based on age or handicap status. In contrast, Medicaid eligibility standards vary significantly from state to state; in certain jurisdictions, low-income families or even some people with serious medical needs may be able to apply regardless of age or handicap status.
How Do You Apply for Medicare?
When it comes to applying for Medicare coverage, there are several stages that you must complete. The first step is to confirm that you match the Medicare eligibility standards, which usually include being at least 65 years old or having specific medical problems.
Following that, you must acquire the relevant information and paperwork, such as proof of citizenship and facts about your employment history. Once you've gathered and prepared all of this material, the next step is to apply online or in person. The application procedure is simple and quick to complete. However, working with an experienced insurance agent or adviser to walk you through the process and verify that your application is correctly submitted may be preferable.
In conclusion
If you're approaching retirement age or are currently a senior, you should be familiar with Medicare. This government-sponsored healthcare programme can provide retirees with health insurance coverage who do not have access to commercial insurance policies. Medicare's extensive benefits can help seniors stay healthy and receive the care they require.
Contact us immediately to find out how much Medicare will cost you, and don't forget to inquire about our other insurance products that can enhance your health coverage.
---
By Kate Smith
|
Feb 06 2023