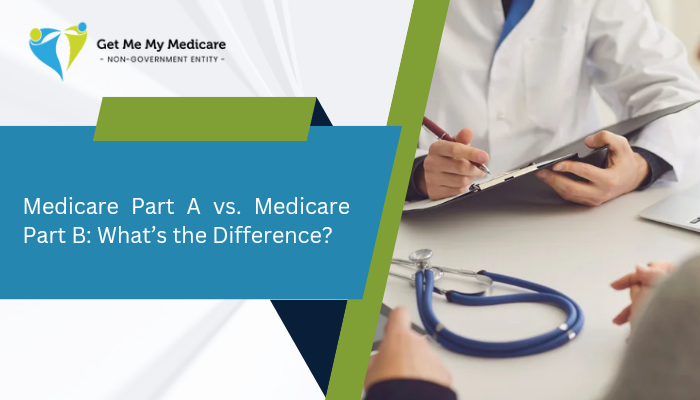 You can claim Medicare & Medicaid Services under the healthcare coverage: Medicare Part A and Medicare Part B.
Part A covers hospitals, whereas Part B covers doctor visits and other areas of outpatient medical treatment. These plans are not competitors, but rather intended to work together to provide health coverage at a doctor's office and a hospital.
What exactly is Medicare Part A in USA?
Medicare Part A covers a variety of healthcare services, which may include the following:
Short-term care at a skilled nursing facility
the hospice with restricted home healthcare
inpatient hospital care
As a result, individuals frequently refer to Medicare Part A hospital coverage.

Eligibility
You must fulfil one of the following conditions to be eligible for Medicare Part A:
be 65 or older,
have a doctor-determined disability,
and have received Social Security benefits for at least 24 months,
and have an end-stage renal illness
have Lou Gehrig's disease,
commonly known as amyotrophic lateral sclerosis (ALS).
Your (or your spouse's) work history determines whether you receive Part A without paying a premium.

Costs
The majority of people who qualify for Medicare do not have to pay for Part A. This is true if you or your spouse paid Medicare taxes for at least 40 quarters (about ten years). Even if you did not work for 40 quarters, you might still pay a monthly Medicare Part A cost.
Hospitalization expenses under Medicare Part A
Days 91 and above at a hospital are termed "lifetime reserve days." You are given 60 lifetime reserve days to use during your life. You are liable for any fees after day 91 if you exceed these days.
A benefit period begins when you are admitted to the hospital and ends when you have not received inpatient care for 60 consecutive days.
Other information
When you require hospital care, Medicare reimbursement frequently hinges on whether the doctor labels you an inpatient or "under observation." If you are not officially admitted to the hospital, Medicare Part A will not cover the service (although Medicare Part B might).
There are various components of hospital treatment that are not covered by Medicare Part A. The first three pints of blood, private nurse care, and a private room are all included.
Medicare Part A covers semi-private rooms, but if your hospital only has private rooms, Medicare will normally compensate you for them.
What exactly is Medicare Part B in USA?
Part B of Medicare covers doctor's visits, outpatient treatment, durable medical equipment, and prescription drugs in some situations. Some individuals refer to it as "medical insurance."

Eligibility
You must be 65 or older and a US citizen to be eligible for Medicare Part B. Those who have lawfully and permanently resided in the United States for at least 5 years in a row may also be eligible for Medicare Part B.

Costs

The cost of Medicare Part B varies depending on when you signed up for Medicare and your income level. If you joined Medicare during the open enrollment period and your income did not exceed $91,000 in 2020, your Medicare Part B premium in 2022 will be $170.10.
However, if you earn $500,000 or more as an individual or more than $750,000 as a couple filing jointly, your Part B premium in 2022 will be $578.30 per month.
If you get benefits from Social Security, the Railroad Retirement Board, or the Office of Personnel Management, the Medicare deductible will be deducted before your payments are sent to you.

In 2022, the yearly deductible is $233.

If you do not enrol in Medicare Part B during your enrollment period (typically around the time you reach 65), you may be required to pay a monthly late enrollment penalty.
Once your Medicare Part B deductible is met, you will typically pay 20% of a Medicare-approved service amount, with Medicare covering the remaining 80%.
Part A Premium
People who have worked for at least 40 quarters while paying Medicare taxes, as well as their spouses, are normally exempt from paying the Medicare Part A payment. However, even if you do not pay this premium, you will incur additional out-of-pocket expenses.
The amount of the Part A premium varies depending on the number of quarters in which the person has paid Medicare taxes.
A person does not have to pay a premium if they have paid Medicare taxes for 40 or more quarters.
A person's premium is $252 if they have paid Medicare taxes for 30 to 39 quarters.
If they haven't paid Medicare taxes for more than 30 quarters, their 2020 premium is $458.
These premiums are subject to change.
The premium for Part B
Medicare Part B also has a charge. The monthly premium for 2020 is $144.60. If a person earns more than $87,000 per year as an individual or $174,000 per year with their spouse, they may be subject to an income-related adjustment. This increases the monthly premium.

The maximum monthly Part B premium is $491.60.
Other information
It is conceivable that you will be admitted to the hospital as an inpatient and that both Medicare Part A and Part B will cover elements of your stay.
Some physicians or specialists who treat you in the hospital, for example, may be compensated through Medicare Part B; nevertheless, Medicare Part A will cover the cost of your stay as well as costs associated with medically required surgery.
Summary of Part A and Part B differences
The table below provides an overview of the main differences between Part A and Part B:

Enrollment periods for Medicare Parts A and B in USA
Don't miss these critical dates if you or a loved one may be enrolling in Medicare soon (or transferring plans):
Initial enrollment period is three months before your 65th birthday, it can be your birthday month, and three months following your 65th birthday.
General enrollment for Medicare Part B is from January 1 to March 31 if you did not sign up during your first enrollment period.
Open enrollment for Medicare Advantage and Part D prescription medication programmes is from October 15 through December 7.
How do you enrol in Medicare Parts A and B?
When you reach the age of eligibility, thereafter you are automatically enrolled in Medicare. You'll receive your red, white, and blue Medicare card in the mail if you're automatically enrolled.
If you are currently receiving SSA benefits when you reach 65, Social Security (SSA) will usually enrol you in Medicare automatically. If you have been receiving SSA disability payments for at least 24 months, you may be automatically enrolled.
But in case you are not automatically enrolled in Medicare when you become eligible, you must join during your Medicare Initial Enrollment Period (IEP).
It begins three months before your birthday month includes your birthday month, and concludes three months later. For more information about enrolling in Medicare, visit the SSA website at ssa.gov.
Parts A and B of Medicare cover different sorts of health services. Part A generally covers inpatient treatments, while Part B covers doctor visits, some medical supplies, and some gadgets.
If a person has paid Medicare taxes through work for at least ten years, they are eligible for premium-free Part A. Part B contains a premium that is determined by an individual's income.
Both sections necessitate out-of-pocket expenses, like deductibles and coinsurance. The SSA and RRB automatically enrol people in these parts of Medicare when they reach the age of 65.
Others must register on their own. A person must have Part A, Part B, or both, or a Medicare Advantage plan to enrol in a Part D plan.
---
By Allen Sharen
|
Nov 21 2022