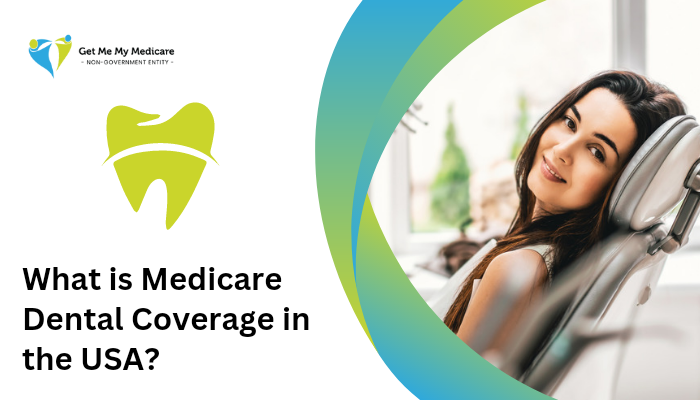 Dental treatment may be costly. According to the Kaiser Family Foundation about half of Medicare users, or around 24 million people, do not have dental coverage.
The proposed legislation seeks to remedy this: Democratic legislators seek to extend dental coverage to Medicare, which would benefit the 62.7 million people who rely on it for primary care.
In the meanwhile, here's everything you need to know about getting Medicare Dental Coverage in the USA.
What is Medicare Dental Coverage in USA?
No, the federal government's original Medicare programme does not cover most regular dental care, treatments, or supplies. Cleanings, fillings, teeth extractions, and dentures must be paid for in full by Medicare beneficiaries.
However, certain medical dental treatments delivered during a hospital stay are covered by Medicare Part A, which covers hospital stays, skilled nursing facility care, and hospice care. For example, if you had catastrophic damage to your teeth or jaw, Medicare would pay hospitalisation as well as any medically required healing operations.
Is Medicare Advantage Dental Covered in USA?
Medicare Advantage (also known as Part C) plans are sometimes approved by the federal government and offered by private insurance firms. These plans frequently provide treatments not covered by Original Medicare, such as dental, vision, and hearing coverage.
Enrollees may be required to pay an additional premium for these benefits. However, not all Medicare Advantage plans include dental coverage, so carefully study the terms of your plan.
Although Medicare Advantage plans are often the best option to obtain dental coverage, you can also purchase a separate dental plan offered by a commercial insurance firm.
What Is Included in Medicare Dental Coverage in the USA?
What dental coverage you get depends on the Medicare Advantage plan you pick.
For example, Aetna Medicare Advantage provides three categories of dental coverage:
Preventative care, such as dental cleanings and X-rays, are covered by the network.
Allowance for direct member reimbursement: You pay for your dental services in advance and then submit receipts for reimbursement (up to a certain amount).
Supplemental benefits are optional and can be purchased for an additional monthly fee.
The Kaiser Family Foundation reports that 94% of Medicare Advantage members have some form of dental coverage. One-fourth of them have just preventative coverage, which covers oral examinations, dental X-rays, and cleanings. Meanwhile, 86% of the population has access to more comprehensive insurance that include fillings, root canals, dentures, and oral surgery.
How Much Does Medicare Dental Coverage in USA Cost?
In general, the cost of Medicare Advantage plans and dental coverage, particularly when an additional premium is required, varies depending on criteria such as your age and where you reside. Some have no monthly fee, whilst others do.
Medicare Advantage plan rates in eastern Pennsylvania, for example, range from $0 to $302 per month. They vary from $0 to $397 per month in the Los Angeles region.
Basic dental treatments, such as examinations and cleanings, are often included in low-cost Medicare Advantage plans that do not need an additional monthly fee for dental coverage.
Do Medicare Supplement Plans Include Dental Coverage?
Medicare Supplement plans, commonly known as Medigap plans, do not cover dentistry directly, but they "cover some of the out-of-pocket expenditures including copayments, coinsurance, and deductibles.
Furthermore, he notes, many insurance firms that provide Medigap policies "give you the option of adding a dental or vision package for an extra fee." "They don't all do it, but it's something that a lot of carriers are now giving."
"My recommendation to all new Medicare recipients is to ask themselves, 'How do I intend to pay for my dental care?' Do you have the money to pay for it yourself? If not, you should definitely consider a Medicare Advantage plan or a Medicare-only dental insurance plan.
Is Dental Care Covered by Medicaid Dental Coverage in USA?
Medicaid dental coverage is determined by your state of residence as well as your age. Although Medicaid is mandated to offer dental care to children, each state selects the dental benefits adults enrolled in Medicaid get. Although most states provide emergency dental care for adults, fewer than half presently provide complete dental coverage to adult Medicaid members.
What Is the Best Medicare Dental Insurance for Seniors in USA?
Choosing the ideal dental insurance plan for your demands taking into account your unique needs and preferences. It all comes down to whatever components of dental coverage are most essential to you, whether it's the cost, network size, or features that address particular tooth conditions.
Begin by limiting your plan selections depending on your location and budget. Following that, you may compare the customer satisfaction ratings, coverage limits, and other features of various plans. It's also a good idea to do some research on the best dental insurance companies before signing up for coverage.
How to Enroll in Medicare Plans That Include Dental Insurance in USA?
you can enrol in a Medicare Advantage plan when you initially become eligible for Medicare or during the open enrollment period, which runs from Oct. 15 through Dec. 7 this year.
He recommends going to Medicare's plan comparison website and inputting your ZIP code to check which plans you're eligible for and whether they offer dental benefits. You may discover more about each plan's dental coverage by clicking on the plan summary link.
Important Findings
As of 2019, over half of Medicare members (47%), or 24 million individuals, lacked dental coverage.
As of 2018, over half of all Medicare members (47%), with greater percentages among those who are Black (68%) or Hispanic (61%), have low incomes (73%), or are in fair or poor health (63%), have not had a dental appointment in the previous year.
In 2018, the average out-of-pocket cost on dental treatments among Medicare recipients who received any dental service was $874. One in every five Medicare enrollees (20%) who received dental treatment paid more than $1,000 out of pocket.
In 2021, 94% of Medicare Advantage subscribers in individual plans (plans open for public enrollment), or 16.6 million people, will be enrolled in a plan that provides some dental coverage. These Medicare Advantage participants include:
The majority of these registrants (86%) are provided with both preventative and more comprehensive dental services.
More than three-quarters of Medicare Advantage subscribers (78%) are in plans with annual dollar restrictions on dental coverage, with an average limit of $1,300 in 2021; more than half (59%) are in a plan with a maximum dental benefit of $1,000 or less.
Almost two-thirds (64%) of subscribers with access to preventive benefits, including oral examinations, cleanings, and/or x-rays, pay no copay for these treatments, albeit their coverage is often limited to an annual budget cap.
Coinsurance for more comprehensive dental procedures, including fillings, extractions, and root canals, is typically 50%. A separate charge is required for around 10% of Medicare Advantage participants to get any dental services.
The remaining Medicare seniors can get dental care through Medicare Advantage planscin USA, Medicaid, and private plans, such as employer-sponsored retiree plans and privately bought insurance.
In 2019, 29% of all Medicare beneficiaries had some dental coverage through Medicare Advantage plans (including 3% of Medicaid recipients who got dental coverage through a Medicare Advantage plan).
Another 16% were covered by private policies. Medicaid provided dental coverage to about 11% of Medicare recipients (including the aforementioned who also have coverage through Medicare Advantage plans).
As the number of Medicare Advantage enrollees grows, a growing proportion of Medicare beneficiaries have access to some dental coverage through their Medicare Advantage plan, increasing the proportion of all Medicare beneficiaries having some dental coverage.
Extra ("supplemental") benefits not covered by standard Medicare, such as dental, vision, hearing, and fitness benefits, may be provided through Medicare Advantage plans. These perks may be paid for using rebate cash.
Plans may also charge premiums for such advantages. 94% of Medicare Advantage subscribers in individual plans will have access to some dental coverage by 2021. The vast majority (86%) of these Medicare Advantage subscribers have access to a more comprehensive plan, while 14% receive solely preventative coverage.
Oral examinations, cleanings, dental x-rays, and fluoride treatments are common preventive dental services covered by Medicare Advantage plans in USA.
More comprehensive benefits encompass a wider variety of therapies, such as restorative services (such as fillings), endodontics (such as root canals), and periodontics (e.g., scaling and root planing), which can also be added, just switch to expert guidance today.
---
By Patrick Long
|
Oct 21 2022