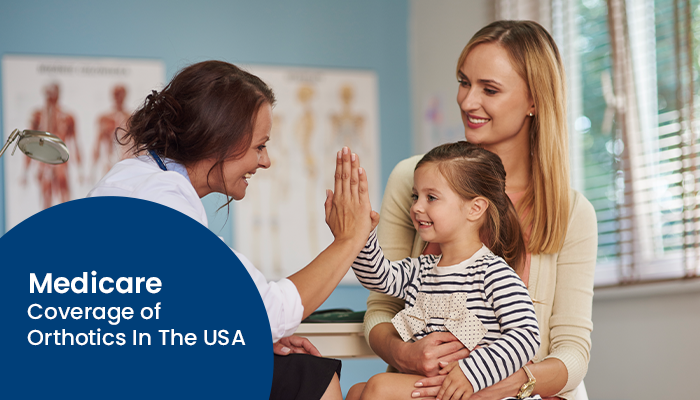 Before we answer the subject of medicare coverage of orthotics in the United States, here are some key phrases and definitions you should be aware of:
Original Medicare is a fee-for-service health plan divided into two parts: Part A (hospital insurance) and Part B (medical insurance). Following the payment of a deductible, Medicare pays half of the Medicare-approved amount, and you pay your share, which is referred to as coinsurance, copayment, and deductibles. Original Medicare coverage is supplied directly by Medicare, not by a third-party private, for-profit insurance carrier.
Medicare Advantage (MA) is also known as Part C. Part A of Medicare Advantage is hospital insurance, and Part B is medical insurance. This version of Medicare is offered by private insurance companies.
Whether you choose Original Medicare or Medicare Advantage, you can choose whether you want prescription medication coverage or additional coverage.
Medicare Coverage of Therapeutic Footwear in USA
To answer the question of whether Medicare covers shoe orthotics, consider the following: After you've reached your deductible, Original Medicare typically pays 80 percent of the Medicare-approved cost for shoe orthotics, therapeutic shoes, and shoe inserts; the remaining 20 percent is your responsibility.
If your Medicare doctor determines that orthotics are medically essential for you and prescribes them, Medicare Part B, your medical insurance, may cover up to 80% of the allowable costs as long as you purchase the orthotics from a Medicare-approved prescriber.
To summarize, you must fulfil the following two requirements:
• Your Medicare doctor has determined that shoe orthotics are necessary for medical reasons
You get your shoe orthotics from a Medicare-approved source
To support weak joints or muscles, your doctor may prescribe orthotic devices, sometimes known as braces. If you suffer from foot discomfort or other foot-related health issues, your podiatrist or another clinician may recommend custom orthotics for your feet. In some cases, Medicare Part B may fund orthotics.
Types of Medicare Coverage of Orthotics in the USA
Orthotics are commonly thought of as custom-made shoe inserts that can reduce foot pain. That is a common type of orthotic, although there are others, such as back braces. They are classified as durable medical equipment by Medicare. If both of the following conditions are met, Medicare Part B may fund orthotics:
Your Medicare doctor (or podiatrist) prescribes orthotics as medically required, and you purchase them from a Medicare-participating provider.
If your Medicare-assigned doctor certifies that you require them, Medicare Part B may also pay for therapeutic shoes and inserts for patients with diabetes who have severe diabetic foot conditions. These devices, like orthotics, must be purchased from a Medicare-approved source.
Orthotics are classified as "Durable Medical Equipment Prosthetics, Orthotics, and Supplies (DMEPOS)" by Medicare. If you meet the qualifications listed above,
Original Medicare will normally cover 80 per cent of the Medicare-approved cost for orthotics, therapeutic shoes, and shoe inserts after you've met your deductible; after that, you'll only be liable for the remaining 20%. You might be interested in this article on how to plan your Medicare health bills for retirement.
Medicare Advantage Coverage for Various Types of Orthotics
Did you know that you can acquire your Medicare Part B (and Part A) benefits through a Medicare plan offered by commercial, Medicare-approved insurance companies? Medicare Advantage, often known as Medicare Part C, is a different option to acquire Medicare coverage.
Many Medicare Advantage plans even include prescription drug coverage (known as a Medicare Advantage Prescription Drug plan or MAPD)—something that Original Medicare, Parts A and B, provides only limited coverage for, generally not extending to prescription prescriptions taken at home.
In the United States, Medicare may cover orthotics. When you have a Medicare Advantage plan, you must continue to pay your Part B premium as well as any premiums levied by the plan.
Medicare Coverage of Therapeutic Shoes and Inserts
There are various applications for therapeutic shoes and insoles. They are frequently used to support and protect the foot, as well as to relieve pain. Inserts work by preventing excessive pressure from being applied to any one area of your foot when you walk.
They can be used to treat a variety of conditions, such as loss of feeling, foot or toe abnormalities, and plantar ulcers.
However, Medicare Part B only covers therapeutic shoes and inserts if you have diabetes and a severe diabetic foot condition.
If you achieve those requirements, you will be eligible for:
one custom-moulded pair of shoes and inserts
one pair of extra-deep shoes; two extra pairs of custom-moulded shoe inserts
three extra pairs of inserts for extra-depth shoes per year.
In the United States, Medicare will reimburse 80% of the cost of therapeutic shoes and inserts. After your deductible is satisfied, you are liable for the remaining 20%. In 2022, the Medicare Part B deductible is $233.
Your doctor and supplier must have Medicare coverage for orthotics in the United States. The shoes or inserts must be deemed medically essential by the doctor who treats you for diabetes. A qualified health care expert must then prescribe them.
Health Care Professionals Who Can Prescribe Orthotics
Orthotist
Pedorthist
Podiatrist
Prosthetist
Other qualified individuals
Medicare Coverage of Braces and Support
Braces and supports are used to treat injuries, improve stability, and alleviate pain. They reduce the risk of further injury and can also be used to treat abnormalities.
In some circumstances, braces may be used instead of surgery in some circumstances. Braces have some drawbacks, including the possibility of muscular function loss over time.
Common Types of Braces Covered by Medicare
Arm braces
Leg braces
Neck braces
Back braces
A health care expert must determine that braces are medically essential. If they are, Medicare will fund 80% of the cost. After you've paid your deductible, you're left with 20%.
These braces and supports are also included in the DMEPOS Competitive Bidding Program. If you live in a competitive bidding region, you must use a contract supplier in order for Medicare to pay for an off-the-shelf back or knee brace.
How Medicare's Coverage of Orthotics in USA Devices Can Help You
"Ortho" is a Greek word that signifies "straight" or "right." Splints, braces, and shoe inserts are examples of orthotic devices. They offer support, immobilize, or treat muscles, joints, or skeleton segments that have been injured, are malformed or are too weak to provide adequate support.
Foot orthotics, such as shoe inserts, are frequently prescribed by podiatrists to address foot problems caused by arthritis, plantar fasciitis, bunions, bursitis, tendonitis, diabetic foot ulcers, or arch or heel pain.
Orthotics are frequently prescribed by doctors following popular orthopaedic operations such as hip or knee replacement. Orthotics can assist in supporting the entire leg and foot, allowing for optimal alignment and avoiding foot pronation. A personalized foot orthotic may rectify a modest discrepancy in leg length that causes a loss of balance or awkwardness while walking.
Back and neck braces are examples of spinal orthotic devices. They support and stabilize portions of the body, such as the jaw, neck, all regions of the back, and the spine. They are prescribed by doctors after procedures to aid normal healing. They are also used to treat chronic illnesses such as arthritis and injuries like whiplash.
Orthotic Devices Covered by Medicare in USA
Medicare Part B covers 80% of the approved cost of custom-made or pre-made orthotic devices. Of course, this is only possible if your doctor believes it is medically required. Orthotics are classified as durable medical equipment (DME) by Medicare.
Durable medical equipment is defined by Medicare as equipment used for medical purposes in the home that has a life expectancy of more than three years and is not beneficial to anyone who is not sick or injured. Under the umbrella of DME, Medicare lists the following orthotics:
Bracing for ankles, feet, knees, back, neck, spine, hands, wrists, elbows
Orthopedic shoes are a necessary part of a leg brace
Prosthetic devices like artificial limbs
Medicare beneficiaries must meet all of the following eligibility requirements:
The orthotic must be medically necessary, and your doctor must prescribe it as part of your overall treatment plan
The orthotic supplier must be enrolled in Medicare and accept Medicare assignments.
Individuals with Medicare Part B who are qualified for an orthotic device will pay 20% of the Medicare-approved cost, plus the Part B deductible. The annual Part B deductible in 2019 is $185.00.
Depending on the type of orthotic you require, expenses might range from a few tens to hundreds of dollars. Prices vary depending on where you live, whether the orthotic is prefabricated or custom-made, and the type of device.
You must use a supplier who participates in Medicare and accepts assignments. Make sure to talk to your doctor about your best Medicare coverage for orthotics in the USA.
---
By Patrick Long
|
Sep 15 2022