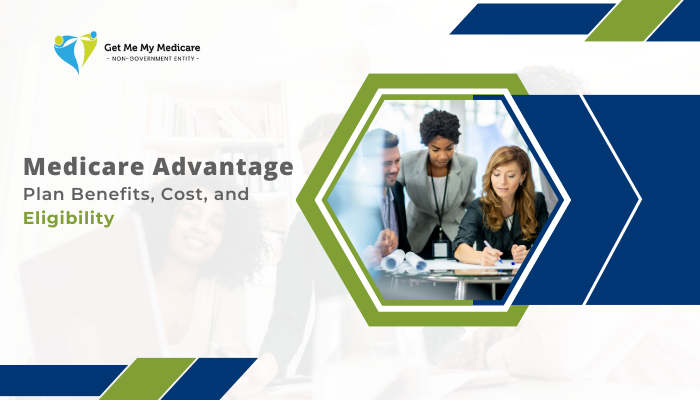 Day by day the Medicare Advantage plan is increasing their demand. According to sources over 26 million Medicare beneficiaries enrolled in a Medicare Advantage plan and over the last decade, the enrollment has doubled. Many are saying it is one of the best plans whereas some say it is a bad plan and this buzz is confusing the newbies.
So if you are too confused to find out how to choose a medicare advantage plan that meets your needs then here we are available to give their best suggestions. In this blog, we are exploring what is medicare advantage plan, how much it costs and what are its benefits.
What is a Medicare Advantage Plan?
Medicare Advantage plans are also known as Part C of Medicare plans. These plans are utilised as an alternative way for beneficiaries to receive the original Medicare benefits. These plans are mostly provided by private Medicare-approved insurance companies. The plans cover all the same benefits as traditional Medicare such as Part A and Part B, however, depending on your plan you can offer additional coverage benefits.
Things to consider before choosing a Medicare Advantage Plan
What is your health condition?
First, check your health conditions. If you have preexisting conditions, then you need to show your prescriptions. Whether you need care on a regular basis or rarely need to check with doctors. Write down all your health ailments to fully understand the level of care you need.
Do you have any specialists for your health?
If for your health conditions, you are visiting a specialist then make sure your desired Medicare Advantage plan is accommodating your needs. Check whether the Medicare Advantage plan benefits are suitable for you or not. Check the network or providers are providing all types of services or only some.
Does the plan suitable to your lifestyle or not?
Find out your lifestyle first. Like whether you are travelling a lot or do you leave the country often? If it is so, then the Medicare Advantage Plan you choose should cover out-of-state or country.
How to review your Medicare Advantage plan?
Medicare Advantage plan cost
When you are researching any Medicare Advantage, find out your sharing cost. It is important to understand the costs you will incur and if you can afford them within your budget.
What are the extra Medicare Advantage benefits?
Medicare Advantage may offer additional benefits. Prioritise your search based on what is necessary, and then what is preferred.
Review through star ratings
Star ratings from CMS will let you know how well the Medicare Advantage plan and Part D plans are performing each year. The rating is prepared based on five categories:
Stay Healthy
Access to screening, vaccines and tests
Check chronic conditions
How often long-term tests and treatments are recommended
Experienced Member
Based on plan responsiveness, care and prescriptions
Complaints
How many members quit the plan, how often they had service issues and complaints, etc?
Customer Service
Interpreters' availability, processing appeals, and timely plan enrollment.
When to enrol on a Medicare Management Plan?
You must sign up for Medicare Parts A and B and pay the Part B cost if you're interested in an MA plan.
During your Initial Enrollment Period (IEP), you can sign up for Traditional Medicare and your MA plan:
Begins three months before you turn 65.
Ends 3 months after you turn 65
You have the choice to join or switch plans each year during the Annual Enrollment Period (AEP) if you don't enrol during your IEP:
October 15 to December 7
Facts of medicare advantage plan cost
Here are some facts about the costs associated with Medicare Advantage plans
Medicare Advantage plans typically have lower monthly premiums than traditional Medicare plans.
Some Medicare Advantage plans offer additional benefits, such as dental, vision, and hearing coverage, which may be included in the monthly premium or offered at an additional cost.
Most Medicare Advantage plans have an annual out-of-pocket limit, which limits the amount you can spend on healthcare expenses each year.
Medicare Advantage plans may have different copayments, coinsurance, and deductibles than traditional Medicare plans.
Some Medicare Advantage plans have network restrictions, which means you may need to see providers within a certain network to receive coverage.
Medicare Advantage plans may have different prescription drug coverage options, with some plans including prescription drug coverage in their overall package while others offer it as an optional add-on.
The cost of Medicare Advantage plans can vary widely depending on factors such as location, age, health status, and the specific plan chosen.
It's important to carefully review the costs and benefits of different Medicare Advantage plans before selecting one, to ensure that the plan meets your healthcare needs and budget.
Why are Medicare Advantage plans in demand?
It is a surprising fact that when one is enrolling in Original Medicare, that only covers the basics. Though the original Medicare includes hospital insurance and medical insurance it only covers approximately 80% of the cost leaving the beneficiary to cover the other 20%.
This gap in coverage with Original Medicare often allows Medicare-eligible individuals to choose to enrol in supplemental insurance like Medicare Advantage or Medicare Supplement plan. For a closer look at the differences between Medicare Advantage and Medicare Supplement plans.
Comprehensive coverage: Medicare Advantage plans provide all the benefits of Medicare Part A and Part B, plus additional benefits that may not be covered by traditional Medicare, such as dental, vision, and hearing care.
Prescription drug coverage: Many Medicare Advantage plans include prescription drug coverage, which can help reduce the cost of your medications.
Out-of-pocket maximum: Medicare Advantage plans have an annual out-of-pocket maximum, which limits the amount you pay for healthcare services each year.
Flexibility: Medicare Advantage plans allow you to choose from a range of plans offered by private insurance companies, so you can find a plan that best fits your needs.
Coordinated care: Medicare Advantage plans may offer coordinated care, which means your healthcare providers work together to provide you with the best possible care.
Wellness programs: Many Medicare Advantage plans offer wellness programs, such as fitness classes, nutrition counselling, and smoking cessation programs, to help you stay healthy and prevent illness.
Cost-saving options: Some Medicare Advantage plans may offer cost-saving options, such as health savings accounts or lower copayments for using in-network providers.
Convenient enrollment: You can enrol in a Medicare Advantage plan during specific enrollment periods, and you can make changes to your plan each year during the annual enrollment period.
Choosing the Right Health Care Plan for You
Now that we have discussed the benefits, common concern plans and reasons why some individuals think Medicare Advantage plans are awful, it is crucial to remember that selecting a healthcare plan is not a one-size-fits-all decision. What is great for one person could be detrimental to another. Understanding all the benefits and how they apply to your specific circumstances is the most crucial component of selecting health insurance coverage.
Medicare Advantage options can get confusing. But did you know that you can get unbiased help, at no cost? You can connect with Get Me My Medicare who can guide you through choices and review many top Medicare plans with you. After hearing the pros and cons of various plans, you will have the power to compare and the freedom to choose.
---
By Allen Sharen
|
Apr 05 2023