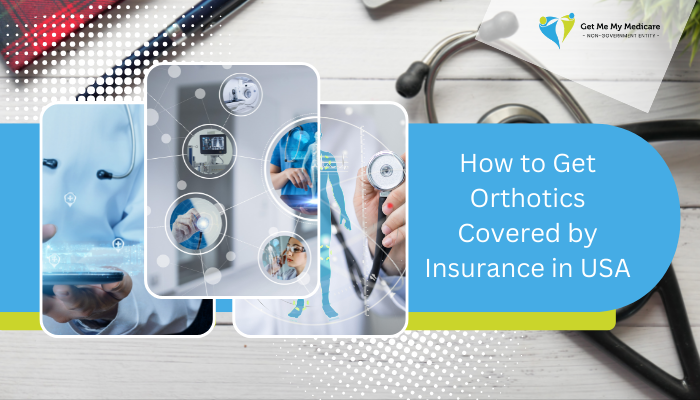 Orthotics are custom-made implants that cushion and strengthen the foot while shifting energy during movement. When standing or walking, they restrict excessive movement and straighten foot joints. Orthotics are used to treat a variety of foot disorders such as diabetic neuropathy, plantar fasciitis, Achilles tendinitis, overpronation, and more.
A podiatrist creates orthotics after doing a foot assessment to ensure that the orthotic is custom-fit to the foot. A foot imprint kit can be sent if a physical examination is not available.
Orthotics are expensive, generally costing between $200 and $800. They are effective, but they are expensive, especially custom orthotics.
Does Medicare Cover Orthotics in USA?
Many health insurance policies cover particular medical disorders and treatments, such as orthotics. These plans cover customized orthotics purchased with a medical recommendation in either partial or full coverage.
It's always a good idea to read the fine print of an insurance policy to comprehend its restrictions and how much coverage it provides. Should however you select an insurance plan, especially if you require orthotics coverage.
When looking for orthodontic treatment insurance coverage under dental policies, be sure orthodontia is included. Many dental policies do not expressly cover this.
Dental discount plans that specifically include orthodontic treatment may offer savings on certain procedures to help cover the costs. When it comes to orthodontic treatment, most insurance plans have limitations on what they will cover.
What Is Necessary for Orthotics Insurance Coverage?
Orthotics can reduce the need for long-term medication, physical therapy, or surgery. As a result, many insurance companies consider orthotics to be therapeutic medical equipment and cover them.
The Flexible Savings Account (FSA), for example, has comprehensive insurance coverage. Others, such as Medicare,pay 80% of the cost, leaving you to bear the remainder. However, the particular conditions for orthotics insurance coverage are determined by your health benefit plan.
Orthotics are generally reimbursed if they are deemed medically necessary and prescribed to address a diagnosed medical condition covered by the health benefit plan. A skilled medical practitioner prescribes orthotics for protection, support, pain alleviation, and body alignment.
The insurance policy clearly mentions orthotics. They are manufactured of the right material, which is frequently specified in your design.
You may look up the terms of your health benefits package on the website of your insurance carrier to learn more about their coverage. For example, if you pay for orthotics and insoles out of pocket, you may be eligible for reimbursement through the FSA and Health Reimbursement Arrangements (HRA).
As long as you have an active account, you can utilize the FSA or HRA to purchase custom orthotics whenever you purchase an insole. All you have to do is present the purchase receipt when asked. The type of orthotic, as well as its price, quality, and material, are irrelevant as long as you can provide the receipt with your payment information.
How to Get Orthotics Covered by Insurance in USA?
To acquire insurance for your orthotics, you must first be insured by a health benefits plan.
This procedure includes the following steps:
First, you must investigate various plans and what they include. You should ideally select a plan that includes coverage for custom orthotics. You should also discover how many orthotics your insurance covers each year. Then you'll need to choose the best insurance company for you, taking into account features like premiums, claims verification, and so on.
You should be underwritten to assess your baselines and eligibility for various medical costs. If your provider is unhappy with your baselines, he or she may issue you a new quotation with a higher premium to pay. It's wise to double-check the details of your insurance policy with your provider.
Finally, you must select your beneficiaries and begin paying your premiums in accordance with your pre-specified arrangement.
Not everybody needs orthotics, although the majority of individuals can benefit from them.
Orthotics serve to redistribute pressure, correct gait, enhance posture, cushion sensitive areas of the foot, absorb shock, and alleviate foot discomfort. A podiatrist can tell you if you need orthotics, but some problems may necessitate special orthotics that are molded to your foot.
Orthodontic insurance and discount plans usually give coverage discounts, although they seldom cover the entire expense. Braces are not usually covered by insurance. Some insurance plans require you to stay in-network and utilize a contracted provider in order for any charges to be paid.
Typically, coverage can include down purchase assistance. Then, it will offer savings on the rent installments.
Most orthodontic insurance policies have a lifetime maximum amount that they will hardly cover up to. Depending on your insurance and physician, you will also be accountable for copays and fees up to the deductible.
Does Medicaid Cover Custom Orthotics in USA
Foot Swelling or Pain
Foot or heel discomfort is frequently a symptom of other issues, such as plantar fasciitis. Orthotics can help relieve foot discomfort by providing cushioning and support.
Injuries to the lower limbs
Lower limb injuries can alter our movement and alignment, both of which can be addressed with custom orthotics.
Flat or high arches?
Regular shoes do not provide adequate support for people who have very high arches or none at all (flat feet). Orthotics can provide the necessary support for your arches.
Situations in Which Custom Orthotics May Be Beneficial
Spending Long Periods of Time on Your Feet
Insoles can assist ease strain on the plantar fascia, a ligament that runs across the bottom of your foot. Long periods of standing can harm the plantar fascia, resulting in the painful condition known as plantar fasciitis.
Feeling Uncertain about Your Feet?
Flat feet or collapsed arches can cause a lot of discomforts and make you feel off-balance. Inserts can help with balance issues caused by flat feet.
Uneven Wear and Tear on Shoes
If the soles of your shoes are wearing down faster on one side than the other, this indicates that your foot is rolling inwards (pronation) or twisting outwards (supination) (supination).
Do You Need Orthotics?
If you identify with any of the following descriptors, you may require orthotics. Even if your feet are in good condition, you may benefit from the additional support and comfort that custom orthotics give.
4 Methods to Seek Financial Assistance with Custom Orthotics in USA
Custom orthotics may be expensive. Although pricey, you don't want to skimp on your orthotics since failing to support your feet can result in major injuries and long-term joint damage, not to mention more significant medical bills down the road. If you're having difficulties paying for your customized orthotics, here are four options for getting assistance.
Examine your Health Insurance Policy in USA
Although not all private insurers cover custom orthotics, some may cover some or all orthotics if prescribed or suggested by a doctor.
Make use of y our FSA or HSA
If you have either a Flexible Spending Account or a Health Savings Account, you may be capable of utilizing the cash to purchase customized orthotics.
Medicaid and Medicare
If you qualify for Medicare or Medicaid, your orthotics may be covered by your plan.
Consult your employer
If your employment needs you to be on your feet for the majority of the day or requires regular hard activity, your employer may be willing to help you pay for custom orthotics. It might be a benefit you're not aware of or an expenditure you can deduct from your taxes. Check with the experts at Medicare.
---
By Kate Smith
|
Nov 29 2022