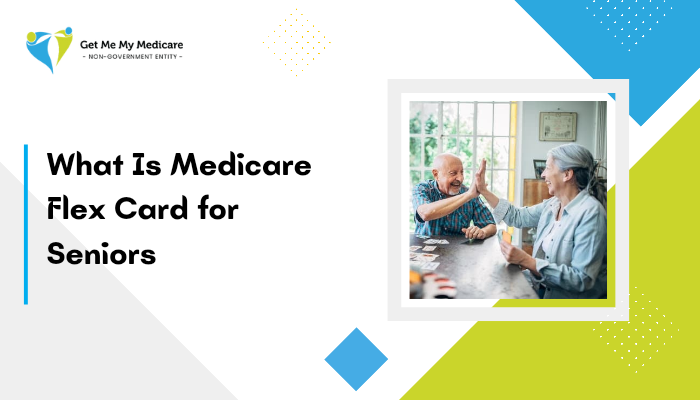 What Is the Flex Card for Seniors?
Like prepaid debit cards, Flex cards are used by Medicare recipients to purchase durable medical equipment and other qualified medical costs. These cards are not Medicare benefits, although they are available on certain Medicare Advantage (MA) plans provided by commercial insurance firms. Although this is not a popular component of Part C insurance, numerous commercials claim to provide Medicare Flex Cards and discounts.
To make the best option for you and avoid being scammed, you need to understand what a Medicare Flex Card is, how it works, and the advantages and downsides.
What exactly is a Flex Card?
A Flex Card is similar to a prepaid debit card in that money may be stored on it. It is often tied to a flexible spending account (FSA) and can be used for qualifying medical purchases. When you use the card, money is deducted from your account, just as when you use a credit card. Flex Cards are primarily viewed as a kind of medical expenditure reimbursement.
For example, you may see an advertisement claiming that you may get a Flex Card from Medicare with up to $2,880 to spend as you wish. However, most of the time, the amount on these cards is not too big (the average in 2023 was $500), and the cash may only be used on qualified, qualifying purchases. This usually refers to medically required products.
While a Flex Card is a valid benefit, it may differ from what is depicted in commercials. It is critical to explore various plans in order to comprehend all of the benefits. This is one method a Medicare representative may help you with while comparing Medicare plan alternatives.
What exactly is a flexible spending account?
A flexible spending account is a tax-advantaged spending account that allows federal employees to save money on qualified health care bills. When you're working, you'll decide how much money to put into your FSA (up to the employer-determined limit). Your contribution is not taxed. The monies can then be used to make approved purchases.
If you have money left over in your account, you have two and a half months to spend it, or you can carry up to $500 over to the next year.
What can I do with a Flex Card?
Flex Cards can only be used for eligible medical expenditures including DME, co-pays or deductibles, prescription prescriptions or over-the-counter (OTC) medications, dentistry, eye, and hearing care, diagnostic gadgets, or other medically essential charges.
Is it possible to get a Medicare Flex Card?
Advertisements for Medicare-supplied flex cards from various insurance companies and health plans may be seen or heard. These cards, however, are not provided by Medicare. Instead, they are provided by private insurance firms, who need you to enrol in their Medicare Advantage plan in order to receive the benefit.
You must be a member of a participating plan to be eligible for a Flex Card. This implies you must live in a plan's coverage region and enrol during a Medicare enrollment time, such as your Initial Enrollment Period or yearly enrollment.
The Benefits and Drawbacks of Flex Cards
The main benefit of Flex Cards is that you get a prepaid debit card that you may use to make qualified transactions based on your plan. The card functions primarily as a mechanism for administering extra benefits and/or reducing enrollee cost sharing on eligible benefits.
However, these cards are only available via Medicare Advantage plans, not Original Medicare, and only a small number of MA plans provide them. Furthermore, the average amount on these cards is $500 (as opposed to the $2,880 frequently touted).
These cards are not merely free money for seniors but simply for being seniors. Instead, these are strategies used to persuade seniors to switch to certain MA plans.
It should be noted that Medicare Supplement plans, often known as Medigap, do not offer Flex Card benefits. Because Medigap plans are intended to help recipients save money on out-of-pocket expenses, the cards aren't a required benefit. You cannot also sign up for both a Medigap and a Medicare Advantage plan.
Avoiding Medicare Flex Card Scams
It's crucial to note that only specific Medicare Advantage plans include Flex Card advantages; yet, you may see an advertisement or be approached by someone attempting to persuade you to enrol in a plan that includes a Flex Card. If this occurs:
Hang up right away.
Personal information such as your name, address, Social Security number, Medicare information, bank account information, and so on should not be provided.
Some private insurance providers may try to persuade you to enrol in their Medicare Advantage plan by using deceptive marketing practices. However, it is critical to conduct research and select the best plan for you based on other aspects like coverage, provider network, pricing, and benefits.
Make no such decision without first studying and evaluating your possibilities. You may begin your investigation by using our Find a Plan feature. Simply enter your zip code to start comparing Medicare options in your region.
A Medicare flex card is a debit card that comes preloaded with a particular amount of money that may be used for specified healthcare bills, and it is frequently promoted to Medicare recipients. Despite the name, Medicare flex cards are not provided by Medicare, but rather by commercial health insurance firms to entice clients to enrol in their Medicare Advantage plans.
While flexible cards have the benefit of immediately available money that may be spent for healthcare bills of your choice, obtaining a flex card may be more challenging than commercials suggest – and may come with additional charges and complications to consider. Here's an explanation of what flex cards are (and aren't), how they operate, how to acquire one, and how to avoid flex card fraud.
Is a Flex Card Free Money?
A flex card does not entitle you to free money. While advertisements for these cards may make it appear as if you are receiving free money to spend on healthcare bills, this is not the case. Although flex cards come pre-loaded with a pre-determined dollar amount, the advantages of this money may be countered by extra out-of-pocket expenditures such as higher deductibles, higher coinsurance rates, and higher monthly premiums.
This is due to the fact that flex cards are only available as part of private insurers' Medicare Advantage plans, not as stand-alone goods. Obtaining a card entails enrolling in a new insurance plan, which has its own set of prices, perks, and coverage restrictions.
For example, you may see an offer for a flex card with a $1,000 balance — but if the insurance plan tied to the card has a $25 monthly premium increase over your current Medicare Advantage premium and doubles your deductible from $500 to $1,000, you may end up paying more each year even with your flex card.
It's also worth mentioning that flex cards have no defined value. While some private insurance firms may provide cards with annual amounts of several thousand dollars, many may have balances in the hundreds of dollars.
Are Medicare Supplement Plans Compatible with Flex Cards?
Flex cards are not available with Medicare supplement plans, often known as Medigap, because they are intended to assist in offsetting out-of-pocket expenditures for treatments not covered by Original Medicare.
Furthermore, policyholders cannot have both Medigap and Medicare Advantage coverage. Because flex cards are issued by Medicare Advantage providers, having a Medigap plan implies you won't be able to use one.
How Do Flex Cards Function?
Flex cards for seniors function similarly to pre-loaded debit cards. The funds on the card can be used to pay for particular health services like dental or eye care, medicines, or even healthy groceries. What is covered, however, may differ from provider to provider.
The money on these cards is provided in addition to current insurance coverage and can be used how the cardholder sees appropriate. For example, if you need new glasses but your Medicare Advantage plan doesn't cover them, you might be able to use your flex card to cover some or all of the expenses.
---
By Kate Smith
|
Jan 04 2023