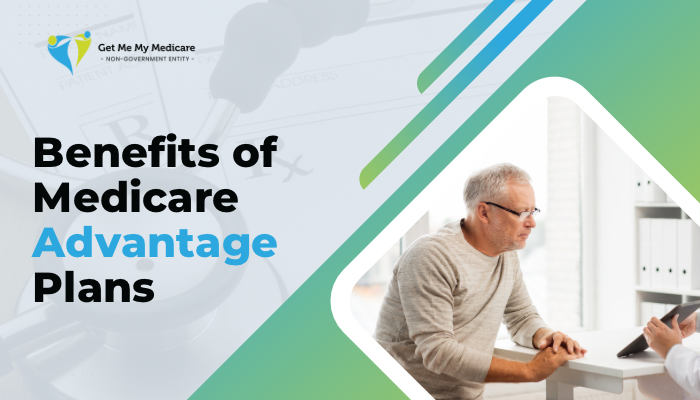 If you are reaching the age of 65, you may be thinking about the government benefits you will soon be eligible for. For example, you may choose between Original Medicare and a Medicare advantage plan for your healthcare. What's the distinction?
Part A and Part B comprise Original Medicare. Part A pays for a part of hospitalisation costs, while Part B covers doctor visits and medical expenses including lab testing and some preventative screenings.
Part C, or Medicare Advantage, is a "all-in-one" alternative to Original Medicare. These "bundled" plans incorporate the advantages of Parts A, B, and D. (prescription drugs). Some people prefer Medicare Advantage Plans to Original Medicare because they provide additional benefits such as vision, hearing, and dental coverage.
1. Saves You Money
First and foremost, Medicare Advantage Plans save Medicare enrollees money — a lot of money.
Original Medicare only covers 80% of the cost of medical treatment; the other 20% is the responsibility of the Medicare beneficiary. A Medicare Advantage Plan is unique. The Medicare Beneficiary is only required to pay a minimal copay, usually less than 20% of the cost of a doctor visit or operation.
Most crucially, Medicare Advantage Plans have a maximum out-of-pocket limit, which means that once reached, the Plan pays 100% of all medical expenses. This alone can save thousands of dollars every year, especially if hospitalisation is involved.
2. Dental, Vision and Hearing Coverage
The additional benefits given that Original Medicare does not cover are what distinguishes Medicare advantage plan.
Dental coverage, eye coverage, hearing examinations, and hearing aid coverage are among the advantages available. Original Medicare does not cover any of these critical health-care benefits.
Furthermore, most Medicare Advantage Plans provide prescription medication coverage at no extra expense, but persons with Original Medicare must sign up for and pay an additional fee for Part D prescription drug coverage.
Medicare Advantage Plans provide additional benefits than Original Medicare and assist participants in saving money on health-care expenditures.
3. Focus on Accessibility
Access to healthcare coverage is critical to keeping healthy. You must have Part A and Part B coverage and live in the plan's service region to join a Medicare Advantage Plan. It is critical to keep in mind that Original Medicare is only valid in the United States. Thankfully, many Medicare Advantage Plans provide international emergency coverage.
4. Wellness and Preventative Health
Another crucial healthcare issue to remember is that Medicare Advantage Plans are concerned with your entire well-being. They provide preventative and wellness services at no cost to you. This provides valuable perks like as free over-the-counter medications and gym memberships. Original Medicare does not provide these sorts of benefits.
5. Medicare Supplement Plans (Medigap)
A Medicare Supplement Plan, commonly known as a Medigap Plan, is sometimes confused with a Medicare Advantage Plan. These differ, and the most significant distinction is that Medicare Supplement plans have ever-increasing premiums since they are dependent on your age. This implies that the cost of these programmes rises year after year. Moreover, they do not provide any extra benefit coverage such as vision, dental, or hearing.
With a Medicare advantage plan, this is not the case. In many situations, there is no monthly payment and you get a slew of extra perks. These benefit-rich, no-cost Medicare Advantage plans are luring patients away from expensive Medicare supplement plans and towards Medicare Advantage Plans.
Don't worry; if you join a Medicare advantage plan for the first time and are dissatisfied, you have unique rights under federal law to purchase a Medigap insurance and a Medicare prescription plan if you return to Original Medicare within 12 months of joining the Medicare Advantage Plan.
6. The Flexibility to Change Your Mind
A widespread myth concerning Medicare Advantage Plans is that when you enrol, you remain on Medicare and do not lose your coverage. Medicare Advantage Programs are referred to as "Medicare Part C." This implies that they combine your Medicare Part A (hospital coverage), Part B (doctor's coverage), and Part D (prescription drug coverage) into an one handy plan that is less expensive and delivers additional benefits.
You can only join, switch or drop a Medicare Advantage Plan during the enrollment periods:
Initial Enrollment Period: If you become eligible for Medicare for the first time, you can sign up during your Initial Enrollment Period. For many, this is the seven-month period that begins three months before your 65th birthday, includes your 65th birthday, and concludes three months after your 65th birthday.
General Enrollment Period: If you have Part A and obtain Part B for the first time during this period (January 1 - March 31 each year), you can also join a Medicare Advantage Plan. Your coverage might not begin until July 1st.
Annual Election Period: Between October 15 and December 7, anyone with Medicare can join, switch or drop a Medicare Advantage Plan. Your coverage will begin on January 1 (as long as the plan receives your request by December 7).
Medicare Advantage Plans have been established for almost 25 years and are still growing in popularity. More than half of all Medicare recipients are enrolled in a Medicare Advantage Plan in various areas of the country. Just 40% of Nevada residents are registered, but that figure is increasing year after year.
---
By Samara Miller
|
Feb 28 2023