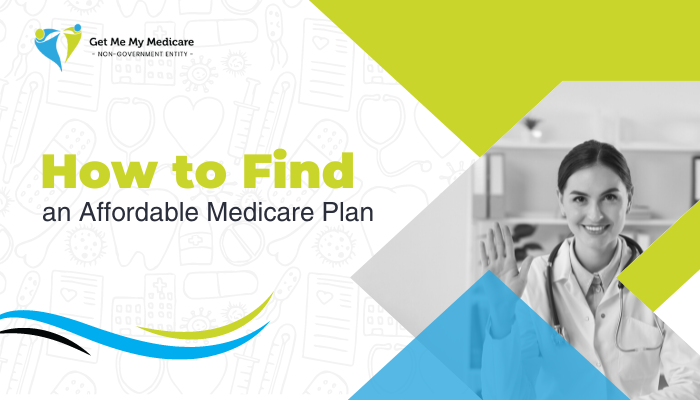 Use Medicare and local resources to choose the most reasonable Medicare plan for you, whether it is a Medicare Advantage Plan or a Medicare Supplement Plan to assist with original Medicare (Part A and Part B) payments. Your healthcare expenditures, including premiums and other out-of-pocket charges, will va/ry based on the kind of Medicare plan you select and the amount you require to access your healthcare benefits. Plan ahead of time and take an active role in your health.
How to find an Affordable Medicare Plan
Out-of-pocket costs: Determine which plan and Medicare coverage are best for you by understanding your prospective out-of-pocket expenditures and anticipating how much you believe you may need to access your healthcare benefits.
Compare plans: Compare and locate Medicare plans and Medicare supplement plans in your region. Utilize your web tools and local specialists to assist you in locating the most economical options.
Consider Medigap insurance: By searching around, you may compare Medigap (Medicare supplement plan) policies in your state. Although plans are standard, rates vary between insurance carriers.
There are several tools available to assist you in your search for a Medicare plan in your zip code. You may investigate your options and discover the correct Medicare coverage by visiting Medicare.gov, a licenced Medicare insurance agent, or your local Area Agency on Aging. Every year, you should examine your Medicare insurance plan to ensure you have the best, most inexpensive coverage for you.
Consider the fixed and variable out-of-pocket fees you will incur based on the Medicare plan you select.Health care may be costly.
To Find Cheap Medicare Plan care should provide the most bang for your buck and guarantee that the treatments you want are available when you require them without breaking the bank. You may think of an affordable Medicare health plan as a meeting point between quality treatment and the lowest feasible cost.
What to Consider When You Choose a Affordable Medicare Plan
A payment made to Medicare, your health care plan, or your Medicare drug coverage plan You pay quarterly premiums to retain your coverage, just like any other sort of insurance, whether you use your benefits or not. This is a set fee.
Original Medicare Part A: Because they have worked and paid Medicare taxes, most people do not have to pay a premium for Part A. If you do not qualify for premium-free coverage, you can buy Part A. Click here to calculate your charges.
Whether you have original Medicare or a Medicare Advantage plan, you must pay a monthly premium for Medicare Part B. In 2023, that equates to $164.90 for the majority of people. You will pay extra if your annual income exceeds a certain threshold.
Medigap (Medicare supplement insurance plans): Depending on the plan and insurance company you pick, your monthly price might range from a few hundred dollars to several hundred dollars.
Part D (Medicare prescription drug coverage): You will pay a monthly fee if you obtain prescription drug plan coverage. In 2021, the nationwide weighted average premium was $38 per month, although pricing differed per plan. If you have a Medicare advantage plan that includes prescription coverage, you may be required to pay a drug plan premium.
Medicare Advantage Plan: Most Medicare beneficiaries in their zip code have access to a zero-premium plan.
The amount you must pay before your insurance begins to pay for services or prescriptions This is a variable expense that is determined by whether or not you use your benefits.
Original Medicare Part A deductibles are required ($1,600 in 2023 for each benefit period). It is difficult to forecast whether or not you will require hospitalisation, but if your medical history involves frequent hospitalisations, you should factor this cost into your budget.
The Medicare Part B deductible is $226 in 2023 and normally increases each year.
Deductible for Medigap insurance This applies only if you select a high-deductible plan.
Part D plan: deductibles vary
Medicare Advantage Plan—deductibles vary
Copays/coinsurance. A copay is an amount you pay as your portion of the cost of a service, such as doctor visits or prescription medicines. It is generally a fixed sum of money. Coinsurance is a percentage, such as 20%, that you pay as your portion of the cost of service once deductibles are met. This is a variable expense that is determined by whether or not you use your benefit.
Part B: The standard coinsurance amount for Medicare-covered services and supplies is 20%.
Part D copays vary depending on the prescription medications you require. Generic prescription pharmaceuticals are less expensive than brand-name medications.
Medicare Advantage Plan: Copays for general care appointments are often inexpensive, whereas copays for specialist appointments are slightly more. Some procedures and treatments may require coinsurance. If you use extra benefits, you may have to pay a copay, coinsurance, or have a set allotment, such as $200 for a pair of eyeglasses.
Maximum out-of-pocket costs The out-of-pocket maximum dollar amount for Medicare Advantage plans is the most you may have to spend for your Medicare coverage in a year. Costs for non-covered or partly covered healthcare services or supplies, such as dental, vision, and hearing benefits, do not count towards your maximum out-of-pocket amount.
There is no restriction on how much you will have to pay if you have original Medicare health coverage without a Medigap policy to cover out-of-pocket payments.
As you investigate which federal Medicare programme is best for you, you may compare these out-of-pocket expenses. It is critical to understand that each of these charges, like the monthly premium, does not exist in isolation. Assume you anticipate using your benefits on a regular basis.
In such a situation, you may choose to purchase a Medigap plan (also known as a Medicare supplement) to cover the majority of your out-of-pocket expenses that are not covered by an original Medicare plan. If you do not anticipate having significant health-care requirements, a zero-premium Medicare Advantage Plan may be the most cost-effective option for you.
You should also investigate whether you are eligible for financial aid to help with the cost of Medicare health coverage. More information may be found by clicking here.
What is the best way to keep Medicare costs low?
There are several ways to Find Affordable Medicare Plan:
If you have a Medicare Advantage plan, stay in-network and follow the plan's regulations for accessing services, such as obtaining prior authorizations and referrals.
Ask for generic versions of your prescribed drugs.
Avoid a penalty for late enrollment. During your initial enrollment period, sign up for Medicare (if you are not already enrolled). Check to see whether you have creditable coverage for medical and pharmacy expenditures, or enrol in Part B, Part D, or a Medicare Advantage Plan with prescription coverage. If you want to make adjustments later, there are other open enrollment periods.
If you have Original Medicare (Parts A and B), use providers and suppliers who accept Medicare assignments to avoid being charged more than the Medicare deductible and coinsurance.
Make full use of your preventive care benefits.
Make the most of your visit to your healthcare provider or physician by being prepared.
Utilize telehealth services when you can.
Engage in health-promoting activities.
Every year, go through your health-care options. Licensed insurance agents and your local Area Agency on Aging can be of assistance.
How Do You Find an Affordable Medicare Supplement Plan?
Medicare.gov is the best place to find a low-cost Medicare Supplement plan (Medigap). Follow the steps to examine and compare the features of each available plan. You can also contact your state's SHIP, the state insurance department, or the insurance carrier for your plan.
Although Medigap policies are similar across all states, rates vary based on the state.
The insurance carrier
Your age
Your gender
Where you live
There are different types of plans, and not all insurance carriers are licenced to offer plans in all states.
---
By Patrick Long
|
Feb 10 2023