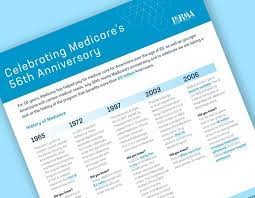 President Lyndon B. Johnson signed Medicare into law on July 30, 1965. Former President Truman and his wife were the first beneficiaries of Medicare, having worked for publicly sponsored medical insurance in the late 1940s during Truman's presidency.
President Lyndon B. Johnson signs the Medicare Bill in Independence, Missouri, at the Harry S. Truman Library and Museum. 34897-22, unknown photographer, LBJ Library Photographed on July 30, 1965.
Health Care for Retired People
Original Medicare, which includes Parts A and B, was established in 1965. Part A covers hospitalisation, whereas Part B covers outpatient medical care. Prior to the passage of Medicare, only around 60% of people over the age of 65 had health insurance because insurance companies charged much higher premiums for the elderly.
Impact on civil rights
Medicare was established in the 1960s, at the height of the Civil Rights Movement. The law required health care providers to pay for assimilation in waiting rooms, hospitals, and physician office buildings.
Evolution Through the Years
Broader eligibility
Medicare has undergone several adjustments throughout the years. Medicare formerly exclusively provided treatment to adults over the age of 65. People with end-stage renal illness and those who have been on Social Security Disability for more than two years are now eligible.
Medicare Advantage
The Balanced Budget Act of 1997, which established what would eventually be known as Medicare Advantage programs, marked a significant expansion of Medicare. Learn more about the history of Medicare Advantage.
Part D
The Bush administration implemented Medicare Part D in 2006. For the first time in Medicare's history, Part D included prescription medication coverage. Prior to 2006, Medicare did not provide any prescription medication coverage.
The Affordable Care Act
The most recent major modification to Medicare came with the Affordable Care Act in 2010. While it had no effect on Original Medicare, it did have an impact on other Medicare plans. It has, for example, begun to gradually reduce the "donut hole," or coverage gap, for Medicare plans that contain Part D coverage.
---
By Allen Sharen
|
Jul 21 2022